[CLICK HERE TO READ THE REST OF THIS MASSIVE POST]
Click here for a big 3rd party compilation of antifa / blm riots, looting, assaults, crimes
2011 Wisconsin state capitol protests where leftists forced their way through doors, crawled through windows. MSM, politicians didn't care. No insurrection, terrorism charges, FBI didn't care.
Riots that began in the summer: As protesters march on Trump Tower in Chicago & the White House, a frank media might point out the death of Mr.Floyd happened under a democrat mayor, democrat senator, democrat governor, with a democrat county prosecutor.
2018 Nancy pelosi encourages rioters tells capitol police to allow them to continue
MSM defends the riots, blames "white supremacy"
BBC UK "Seriously" program tries to defend their violence and paint them in a good light:
6: How violent are they?

Their willingness to use violence marks out Antifa from many other left-wing activists, although the Antifa members we spoke to said they denounce the use of weapons and violent direct action. They said if violence does occur, it's as a form of self-defence. They also make historical arguments to justify their position. For instance, they ask, what if opponents of the German Nazi Party had been more forceful in their opposition in the 1930s, could World War Two and the Holocaust have been averted?

Antifa have been directly and sometimes physically confronting the far right on the streets and, in some cases, they have been successful in postponing, cutting short or cancelling rallies and speeches up and down America.
ABC News Literally quotes a far left Antifa member to get his opinion on the topic:
"It's not one specific organization with a headquarters and a president and a chain of command," said Mark Bray, a history professor at Rutgers University and author of "The Anti-Fascist Handbook." "It's a kind of politics. In a sense, there are plenty of antifa groups, but antifa itself is not a group."

While Attorney General William Barr in a statement Sunday denounced "violence instigated and carried out by antifa and other similar groups," the Justice Department as of Wednesday has not made public direct evidence showing widespread involvement by avowed antifa supporters in instigating the violent scenes that have unfolded throughout the U.S.
So they fact check Trump, but not the Antifa supporting guy whose opinion they use to tell people how great Antifa is.
Washington Post tries to downplay antifa:
Washington Post again trying to defend anarchists
Washington Post Editorial board now defending them:
Other MSM jumping to defend Antifa:
Forbes and Vanity Fair giddy that no protesters have been linked to Antifa yet
However, antifa, a loose network of left-wing activists who sometimes violently confront fascists and white supremacists, is more of a movement than a well-oiled organization.

"Antifa operates as a designation similar to the way someone might describe themselves as a punk rocker," Donovan says.

Still, Donovan says there's been a lot of disinformation coming out about antifa in recent days, including from President Donald Trump and his attorney general, William Barr. Both assert the movement is behind the violence at rallies across the country, and Trump threatened to list antifa as a domestic terrorist organization.

NPR has reviewed court documents of 51 individuals facing federal charges in connection with the unrest. As of Tuesday morning, none is alleged to have links to the antifa movement.
Barr explains why: "We have some investigations underway, very focused investigations on certain individuals that relate to Antifa," Barr said. "But in the initial phase of identifying people and arresting them, they were arrested for crimes that don't require us to identify a particular group or don't necessitate that."
Leftists shift blame on "white nationalists", defend rioters:
Marianne Williamson:
Joy Reid: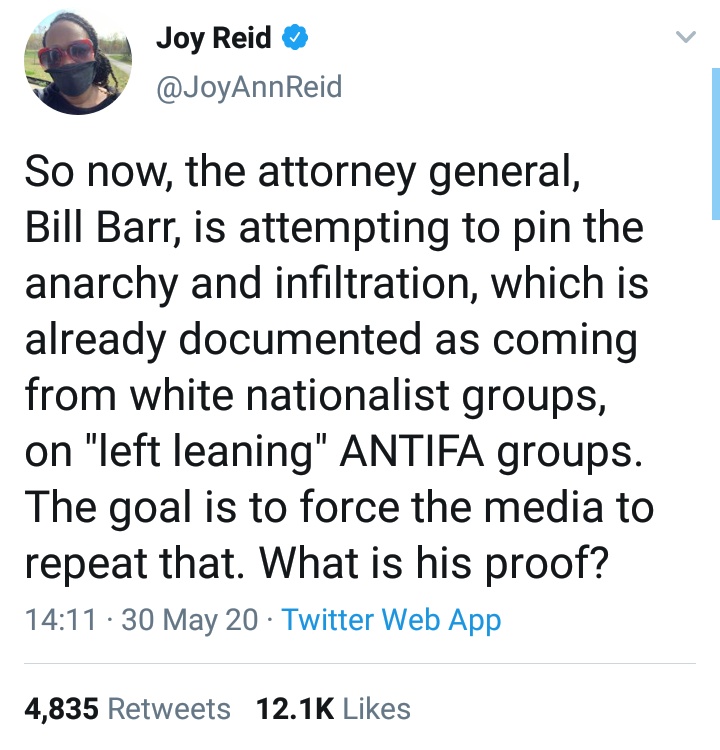 And where is the proof these are outside instigators and alt right groups?
Regina Marston for Congress
Twitter has 243k tweets about "white supremacists"
Mayor Jacob Frey:
Reza Aslan: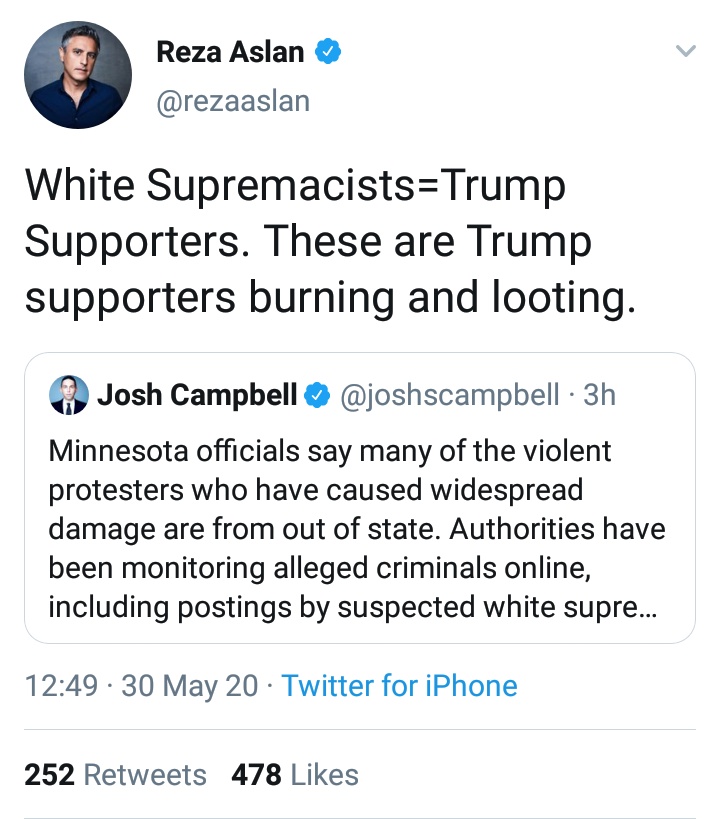 Jonathan Capehart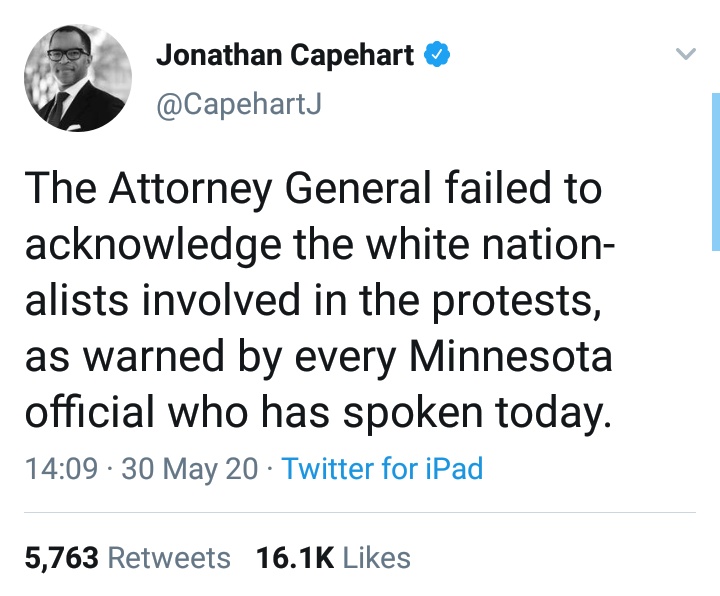 If white supremacists are rioting, why are famous people paying their bail?
Steve Carrell and Seth Rogen:
Chrissy Teigen: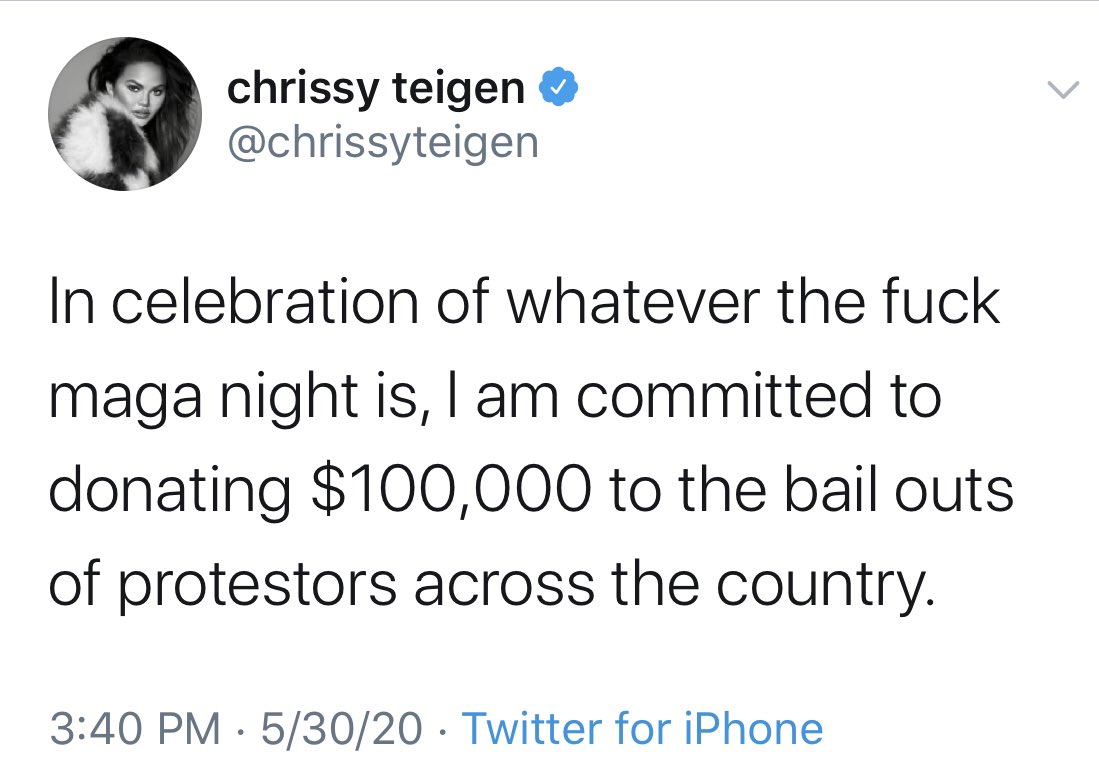 Among those bailed out by the Minnesota Freedom Fund (MFF) is a suspect who shot at police, a woman accused of killing a friend, and a twice convicted sex offender, according to court records reviewed by the FOX 9 Investigators.

According to attempted murder charges, Jaleel Stallings shot at members of a SWAT Team during the riots in May. Police recovered a modified pistol that looks like an AK-47. MFF paid $75,000 in cash to get Stallings out of jail.

Darnika Floyd is charged with second degree murder, for stabbing a friend to death. MFF paid $100,000 cash for her release.

Christopher Boswell, a twice convicted rapist, is currently charged with kidnapping, assault, and sexual assault in two separate cases. MFF paid $350,00 [sic] in cash for his release.
Biden staff bail out rioters
May: Washington burns
May – BLM Burn down a police precinct in Minneapolis as police stand down along with nearby stores. [VIDEO IN ARTICLE]
June – rioters arrested in washington were not charged by prosecutors, charges dropped.
20-05 blm antifa throw explosive at federal officers guarding federal courthouse
June – Riots near white house
Kamala Harris encouraging donations to bail out rioters:
2020-06 Riots near white house, president moved to bunker, kamala harris joined the riot while biden mocked trump
Lawyers willing to represent the arrested "PROTESTERS" pro bono:
Favorable news coverage of the rioters:
20-06: UK police kneel for radical BLM mob:
20-06-07: BBC bias; downplaying violent George Floyd protests: "27 police officers injured during largely peaceful anti-racism protests in London"
20-06 Portland sees 100 days of violent riots
20-06-08: MSM decrying, hating, vilifying anti lockdown protesters vs how they support George Floyd rioters and protesters
20-06-15: New York mayor De Blasio Tells Covid Contract Tracers Not to Ask Positive Cases If They've Attended BLM Protests
20-06-22: Washington Post defends antifa at George Floyd riots.
20-06-25: BBC fake news "Police injured during illegal street party" but don't mention that it was a BLM protest with blacks rioting
20-06-26: BLM/Antifa riot and attack police (140 are injured), media and politicians try to downplay their actions. "Illegal street parties" 
20-07-04: AP calls rioting criminals "protesters" – Columbus statue toppled by Baltimore protesters
20-07-06: BLM is allowed to riot, destroy cities, businesses, but painting over a BLM mural is a hate crime. Martinez, California
CNN has to race bait and point out that they were white:
20-07-03: Portland police, feds make 10 arrests in federal courthouse attack, riot
20-07-21: CNN and New york times defend the rioters, say that "moms" have joined the protests:
Portland "mom" helping pull down a fence guarding the Federal courthouse:
20-07-22: Portland City Commissioner Jo Ann Hardesty said Wednesday she didn't believe protesters in Portland are setting fires but that police are sending in "saboteurs" to create the strife.
20-07-23: AP defends the Portland BLM Antifa rioters. Says mayor Wheeler was tear gassed for being at a "protest" whereas federal agents are defending the courthouse from rioters and he was there for a photo op.
20-07-24: Leftists and MSM spew propaganda about "wall of vets" and "wall of moms" who joined the Portland BLM / Antifa protests – no social distancing concerns here.
20-07-26: ABC "news" – Protesters in California set fire to a courthouse damaged a police station and assaulted officers after a PEACEFUL demonstration intensified
20-07-28: Portland 'looks like downtown Baghdad' as 'homemade bomb explodes at courthouse protest' and cops fear for their lives
20-07-28: Peaceful protesters narrative:
The firework came whizzing over the fence so fast that the agent didn't have time to move.

It exploded with a boom, leaving his hearing deadened and bloody gashes on both forearms. Stunned, with help from his cohorts, he stripped to his boxer shorts and a black T-shirt so his wounds could be examined and photographed for evidence.

He told his fellow agents he was more worried about his hearing than about the gouges and burns on his arms.

By the end of the night, five other federal agents would be injured, including another who got a concussion when he was hit in the head with a commercial-grade firework. One agent was hospitalized. Several agents have lingering vision problems from the lasers.

After each night of protest, they seize dozens of homemade shields, slingshots, blocks of wood and chunks of concrete.

"My friends have been hit in the head with hammers. I know people who have been shot with fireworks. It's disgusting," said the Deputy U.S. Marshal who's been at the courthouse for weeks. "I've never thought I'd have to walk around in my office building wearing a gas mask to go sit in front of my computer."
20-07-28: Leftist media labeling antifa blm as peaceful protests debunked – rioting footage supercut during attorney general William Barr hearing
20-07-28: Antifa communist Madeleine Conger arrested – while the media tells us white supremacists are committing violence
20-07-29: U.S Attorney for Oregon Billy Williams gets irritated by biased media who refuse to accurately describe the criminal behavior of rioters trying to burn down the Portland federal courthouse.
20-07-31: Pro-life students were arrested for writing "Black Pre-born Lives Matter" outside a Washington DC Planned Parenthood with chalk.
20-07-31: The Guardian on Trump wanting to delay election – "it's what autocrats do, a challenge for democracy itself". When Jacinda Ardern wants to delay election: "she appears magnanimous and conciliatory"
On one night, for example, individuals screwed the doors of our North Precinct station shut, barricaded other entrances and lit the station on fire with people inside. Nearby businesses, owned by people of color, were damaged and looted. On other nights, there were multiple attempts to breach the Justice Center. Other law enforcement facilities were targeted, including the union building, which was broken into and had fires set within.
20-08-11: Portland DA Declines to Prosecute Host of Riot-Related Offenses, Citing 'Depth of Emotion' Surrounding Racial Justice
20-08-13: Oregon State Police now pulling out from protecting federal courthouse in Portland – angry that DA not prosecuting most protesters arrested
20-08-10: Chicago BLM antifa rioters attack Ronald McDonald house
20-08-14: Seattle BLM protesters demand white people 'give up' their homes
MSM and politicians calling the riots "peaceful protesters"
20-08-17: "We Sick of Yo' White Ass!" Minnesota Dem Candidate John Thompson, who recently won the Democratic primary for the Minnesota House of Representatives District 67A Threatens white Americans During BLM Protest
20-08-17: Seattle police release bodycam showing officers being injured by explosives during blm antifa riots
20-08-19: BLM leader equates looting to actions of US government overseas, says US 'steals diamonds and oils' Hawk Newsome, the head of the New York branch of BLM, failed to condemn looting as an ethically questionable activity, says US government should 'cut the check' for reparations
20-08-20: 20-08-20 Chicago mayor Lori Lightfoot bans protesting on her block but it's ok if you riot and burn down other parts of town
20-08-21: Mostly blacks loot and riot, get arrested, Time magazine sympathetically talks about how "Young protesters, particularly those of color, face chilling consequences on top of prosecution"
After Jacob Blake shooting:
Washington Post (who later changed the headline)
Global News
New York Times
20-08-25: CNN calls rioters protesters
Associated press propaganda and lies – their "fact check" says that There's no evidence that Black Lives Matter or antifa, or any political group for that matter, is infiltrating racial injustice protests with violence.
20-08-29: Buzzfeed is suddenly concerned about lack of social distancing… during Trump's RNC speech
20-08-29: MSNBC concerned about no social distancing at white house RNC speech but praises BLM protest also without social distancing:
20-08-29: New York Times concerned about social distancing at Trump speech but not march on Washington
Human Rights Campaign scolding Trump speech for no social distancing, then promotes and participates in march on washington
CNN contradicts themselves live on air
20-08-29: Leftist MSM all concerned about social distancing for coronavirus, but only during Trump's RNC speech. The mass riots, protests, demonstrations and gatherings for BLM are OK.
20-08-31: Biden wants Trump to condemn the violence… which is what he's been doing for months:
20-08-31: While leftists destroy cities, Biden wants Trump to call his supporters out to stop acting as an armed militia
20-08-31 joy Reid MSNBC gaslighting saying it's Trump and his supporters causing the violence, as if he's encouraging more violence.
ABC news Joe Biden gaslighting about how it's Trump's fault for the violence.
20-09-01: NY Times gaslighting – poor little protesters are now trying to keep themselves safe as right-wing groups decide to push back against their months of rioting and looting.
20-09-01: 'Who Funds the Rioters?' Is Not a Question the Federal Government Needs To Ask. The notion that the violent protests cropping up in U.S. cities are funded by a secret, shadowy cabal is a myth.
20-09-02: Protests are so peaceful that Ted Wheeler has to move out of his condo
20-09-04: Forbes on the radical who killed a Trump supporter:
20-09-03 San Francisco Government Buildings Keep Gyms Open, Crush Private Gym Owners
20-09-04: "Over 90 percent of protests this summer were peaceful, report shows"
20-09-05: ABC news and other media reporting on people not socially distancing but not reporting on violent leftist blm antifa rioters destroying cities and harassing people
20-09-05: Sept 5 – 6 Antifa members arrested during the riot in Portland
20-09-09:  Kristina Narayan was arrested at the Portland antifa riot where firebombs were thrown at people. She's the legislative dir. for the Ore Democrat speaker of the House Tina Kotek
20-09-19: Pathetic UK police attack anti-lockdown protesters. But took a knee to BLM protesters. Double standards.
20-09-21: Ruth bader ginsburg gets public funeral with public viewing – while regular people were not allowed to see their loved ones who died because of virus restrictions.
20-09-26: 100 days of Antifa blm rioting was ok, 1 day of actual peaceful protesting by proud boys and now Reuters panics about Portland a state of emergency
20-09-27: Propaganda ny times covers for blm terrorists by not even mentioning that the blm leader who tried to run over Trump supporters is part of blm
Same with abc news propaganda:
Michelle Obama defends the blm antifa rioters saying only a small percent of them were violent
20-10-06 Antifa blm destroy cities loot riot but Biden gaslights about white supremacists
20-10-07: ABC Fake news who calls rioters peaceful protesters releases documentary about the threat of so called white supremacists
20-10-07: De Blasio vows order after Hasidic unrest over COVID-19 restrictions – but BLM antifa rioting is ok.
20-10-20: Associated press defends violent Antifa, says they are "regular citizens caught up in the moment"
21-01-06: Congresswoman cori bush wants to expel congress members as if terrorist attack happened. But said nothing of antifa/blm burning cities for months. 
FBI wants to arrest patriots. But did nothing when federal courthouses were attacked, senates stormed after Kavanaugh hearings, Pussy hat marches, etc
Ice T wondering if Trump protesters were black what would happen… forgetting the months of mostly black looting, rioting and protesting. 
Chris Evans is also OK with black people rioting and destroying things, but not when Trump supporters dare protest their government:
Biden says if Trump supporters were black the outcome would have been different
Amex, Prudential, CITI, Chevron, Under Armour, Tim Cook of Apple post statements condemning Trump supporters. But never did so when BLM/Antifa rioted, destroyed buildings, attacked police. While these same companies actually encouraged black rioting and looting.
Leftist MSM propaganda against Trump supporters peacefully protesting:
Acting U.S. attorney for D.C. Michael Sherwin says his office has prepared 55 cases relating to yesterday's attack on the Capitol. 40 are in D.C. Superior Court, 15 will be prosecuted in federal court. He describes the indictments as a first step.
21-01-07: How the propaganda media covers a white conservative being killed by police; NBC calls Ashli Babbitt who was killed a rioter who promoted radical conservative activists – compare to how they defend black crack addicts
Twitter leftist charlotte clymer says the white woman murdered by capitol police was a traitor. Compare to how leftists treat black crack addicts who fight police and are killed.
The day before a church was burned and the President had to be escorted to the bunker as rioters attempted to break down barriers and storm the White House. Dozens of Secret Service were injured. Leftists rejoiced. Now Kamala Harris says if the protesters were not white they would be tear gassed???
So the journos tell us the Capitol Hill riot is "sedition," but trying to burn down a federal courthouse in Portland, incinerating a police station in Minneapolis, and pointing lasers at the eyes of federal officers to blind them- that they say is "mostly peaceful protest"
Trump, Rudy Giuliani and Don Jr. may be charged over Capitol siege, DC AG says – while leftist district attorneys released BLM / Antifa rioters after their crimes.
DOJ has hundreds of prosecutors and investigators investigating the peaceful Trump supporters… when they dropped charges against antifa and blm rioters.
LITERALLY as Trump supporters are being prosecuted for peacefully walking around the capitol, Antifa destroys a police station and businesses in Tigard Oregon
CNN: "People at us capitol riot are being identified and losing their jobs:
Slate mag
AOC gaslights that president trump incited insurrection, incited mob to find harm kill people
Arnold Schwarzenegger compares proud boys to nazis, gaslighting about attack on capitol, anti right wing, comparing to night of broken glass. 
The FBI let John Sullivan (BLM, Antifa) an actual insurgent who said he wanted to "Burn the USA down" go with no charges and no bail from the Capital protest. The FBI is not on We The People's side.
21-01-27: BLM Antifa rioted, destroyed cities, businesses, killed people, looted for MONTHS. Not a peep from the Department of Homeland Security. A dozen right wingers walk inside the capitol and now there are terror advisories. This is totalitarianism.