May 26, 2020
I wonder if the news about who is most at risk from COVID-19 — the racialized have-nots — has created a sense of inoculation among the haves. It's affecting those people, not us, unless we're old.
So in this racists mind white people are such scum that they all know how covid affects non whites, and all white people use this information to go out and have fun to spite all the "racialized" people.
Photographs doing the rounds on social media showed thousands of what looked like white people milling around in crowds in the west-end park, as if millions of other Torontonians were not holding back from precisely that because common sense. And courtesy. And safety.
"Damn white people doing bad things, all the non whites have common sense"
No doubt there were racialized folks among those gathered — fools come from all races — but they were protected by the overwhelming whiteness of those around them.
Damn white privilege again
A couple of weeks ago, a Tamil friend in our suburban neighbourhood was taking his children for a walk, observing all social-distancing protocols. A white man working on his front lawn chided him for being outside and told him to get off the sidewalk and walk on the road.
Did you hear that, one anecdote of a bad white person means racism is everywhere.
Has the province sought the might of the police to keep all of us safe or only some of us safe? Why does the amount of melanin in the wrongdoer dictate who gets off, and whom we choose to perceive as wrongdoer in the first place?

Guess there's no one quite like covidiots to expose the toxic hierarchies that operate under pretty ideals of egalitarianism.
Pure seething white people hate. [article mirror]
If we're going by anecdotes, here's a white family that was fined $880
Print edition of the Toronto Star had an even more racist headline: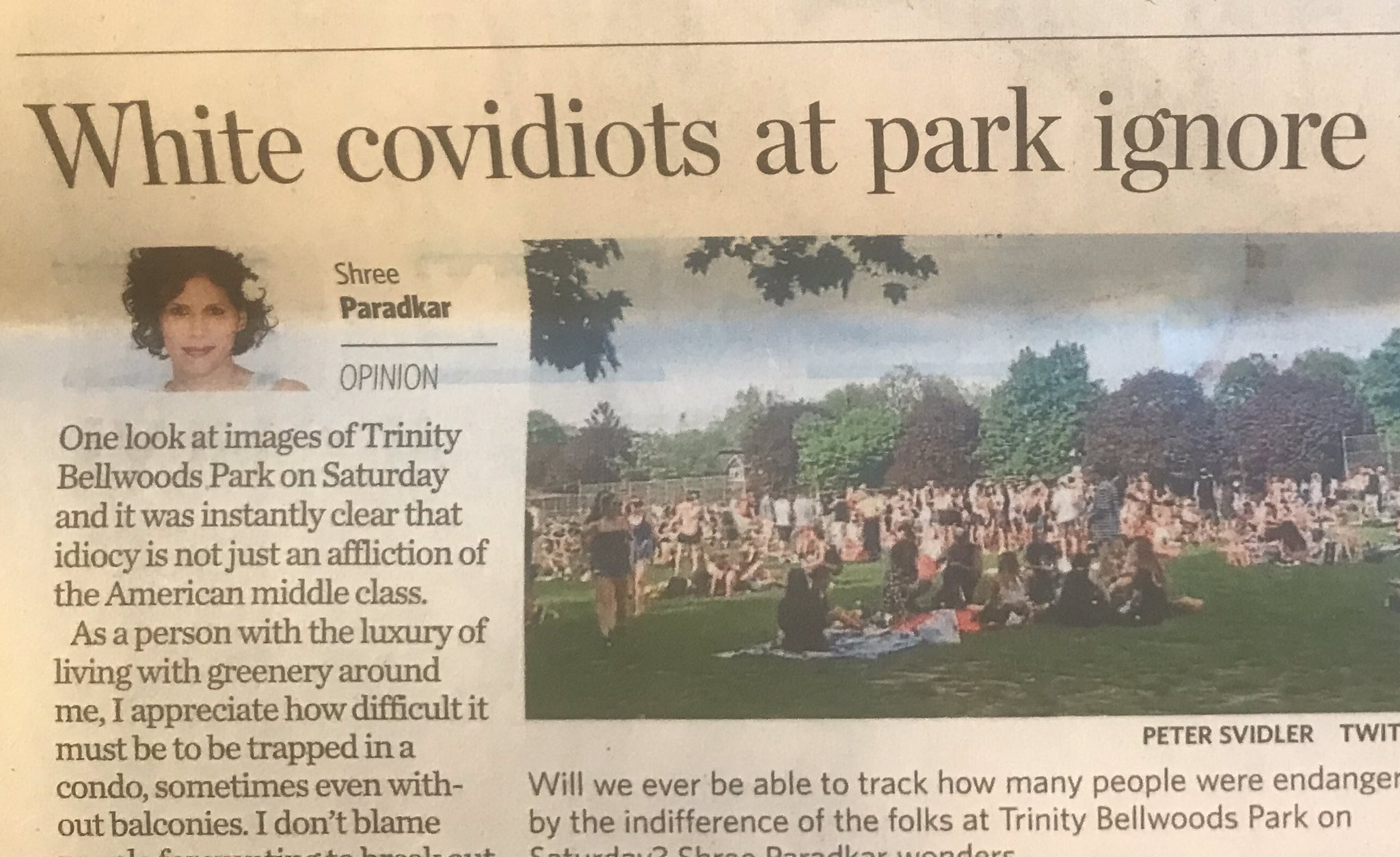 Jun 10, 2020
Well, under Queen Victoria and beyond, the United Kingdom spent a century fighting against slavery. They dispatched the Royal Navy, the greatest military force in the world at the time, to do it.

Yet during this week's riots, a statue of Queen Victoria was desecrated. Protesters spray painted "BLM" and "Murderer" on it, along with "slave owner" and "slag."

Did Queen Victoria kill blacks and enslave blacks? No, and neither did President Abraham Lincoln, who freed four million slaves after the bloodiest war in U.S. history. Neither did Winston Churchill who led the west against Nazi Germany.

Yet all their statues were targeted.

"An Act for the Abolition of the Slave Trade" was passed in Parliament in 1807. It didn't ban slavery itself in the British Empire. But it banned the slave trade. So if you were already a slave, it did not free you. But it was a direct attack on the industry of slavery, the capturing of slaves and their shipment to slave auctions. It was the starter pistol for the Royal Navy's Great War on slave-traders.

The Royal Navy set up a special fleet just for the purpose of stopping slave ships, the West Africa Squadron. It was fully one-sixth of the entire Royal Navy.

Over the course of 50 years, the West Africa Squadron seized 1,600 different slave ships. They freed 150,000 Africans who were being shipped to slave markets. This was not in the economic interests of Britain or the colonies. This was purely done as a moral expression of Christian ideology, in the face of evil.

Did you know, for example, that the British Empire literally paid to liberate every slave in their empire?

They didn't have a civil war; they didn't kill half a million of their own souls in a bloody battle over slavery. They emancipated all the salves, by paying out their slave owners, redeeming the slaves, as the Bible tells Christians to do.

The British Empire borrowed £20 million back in 1833, to do this. Today that would be approximately one hundred billion British pounds, or a quarter of a trillion Canadian dollars.